Spellbound

By Christopher Pike
The sky is blue and dew glistens in the sunlight. Cindy Jones thinks it is going to be a nice day. Until she picks up the local paper that is. 'How Did Karen Holly Die?' the headline asks. It's old news. Karen has been dead for seven weeks, but the reporter just won't let it drop and his article points a discreetly accusing finger at the dead girl's boyfriend, Jason Whitfield. Jason says that a bear killed his girlfriend. She was found with a broken skull and numerous lacerations to her body. She was a mess and a bear might very well have killed her, but the reporter won't let it drop.

Jason also sustained injuries from the encounter with the bear, and is probably lucky to be alive, but the reporter won't let it drop. What of the human skin found underneath Karen's fingernails, he asks, and could Karen's wounds have been caused by a young man getting creative with a sledgehammer and a garden rake? The doctors cannot rule out that possibility. Could Jason's injuries be self inflicted? He asks. Again the doctors cannot rule out the possibility and the reporter talks of a cover up because of who Jason is: the Mayor's son.

The reporter, Kent Cooke, might be asking all the questions, but he is not a central character in Spellbound. That honour goes to Cindy. Cindy is Jason's new girlfriend and when she reads the accusing article in the paper her day is ruined before it is even started. She is well aware that Cooke has a problem with the mayor and believes that the reporter is just dishing the dirt on Jason in the hopes that some of it will stick to his father.

When Cindy herself is involved in an accident, though, and nearly goes over the edge of a waterfall, she begins to get her first suspicions about Jason. Cindy would have probably died that day, if it was not for the intervention of a foreign exchange student from Africa called Bala. Bala, whose grandfather is a powerful Shaman, dived into the swirling river and pulled her to safety. Jason did make his own attempt to save her, but Cindy has to wonder why he is so annoyed at Bala for rescuing her. Cindy's brother Alex was also there that day, and though he too dived into the water, he could not reach his sister. When Bala saved Cindy he made a friend for life in Alex.

There were other people present that day: Alex's new girlfriend Joni was one of them. Like Bala Joni is new in town and no one seems to know much about her. She is quite a beauty though and Alex's friend Ray also has the hots for her. Ray was also there when Cindy fell into the river, as was his ex-girlfriend Pam. Pam is Cindy's best-friend.

When another member of the group dies later on in the book Cindy's suspicions increase. If it is a bear it certainly seems to keep itself busy.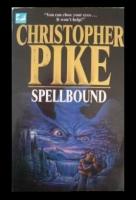 Spellbound is 191 pages long and I must admit that I rather enjoyed it. Although the book starts off being more along the lines of a mystery novel and I was wondering from the first chapter 'whodunit?' there is a little more to the story than it at first appears. Dark and mysterious forces are at work in the little town of Timber and when the truth does eventually out, in the final pages, it is an unusual and surprising truth.
~ List of Christopher Pike books reviewed on this site ~