The Frighteners

By Stephen Laws
The Frighteners is a tale of revenge with a supernatural spin. The main characters in the book are Eddie Brinkburn and Rennie Montresor. Lifelong friends, they co-own a garage. They make a living, but are far from rich and Eddie's wife, Tracey, is far from well. In fact she is in desperate need of an operation and Eddie fears that she might not survive the NHS waiting list long enough to make it to the operating table.

It is partly because of Tracey's ill health that Eddie takes on a little extra work, from time to time, for the local gangster, Sheraton. Usually it is just a case of fixing up a few hot motors, but when the owner of another garage refuses to pay Sheraton's protection money the heavies are sent round and Eddie and Rennie are asked to be the getaway drivers. When it all goes wrong though, Eddie and Rennie end up being behind bars instead of under cars. So does one of the heavies. The other one is not so lucky; he ends up in hospital with severe burns and the man with the melted body is Sheraton's little brother. Sheraton is not happy about this, he arranges for Eddie's wife and kids go up in smoke. Then when Sheraton's brother dies a little accident is arranged for Eddie and Rennie as well, but the prison's resident psycho, Archie Duncan, steps in and saves their lives. Duncan is a man of few words. The same few words, all of the time: "How much do you hate?" This time Eddie has an answer for the madman. He hates a lot. He is consumed by hate, in fact, and has never hated so much in his life. That is all that Duncan needs to hear, and the terrible power trapped inside the madman's body is transferred into Eddie instead.

Eddie quickly learns how to use his new power to put the frighteners on his enemies. The warden is the first person he puts the frighteners on and he keeps putting them on, every night, until he is given early parole. Then he starts to bring Sheraton's empire to its knees.

The Frighteners was first published in 1990 and is set in the UK. At that time patients really did have to wait a long time for operations—and it isn't much better now—so Eddie's predicament is all too believable.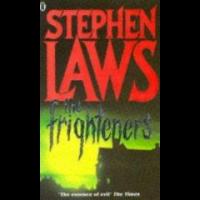 I enjoyed reading The Frighteners, but it didn't perhaps grip me as much as some of Law's other work. I'm not sure why. Perhaps I didn't care enough about the characters, or maybe there wasn't enough other things happening in the story, apart from Eddie's quest for revenge and the strange way he went about getting it. Whatever the reason this isn't one that I would want to read again and again.

~
List of Stephen Laws books reviewed on this site ~