Children of the Stones
Children's TV series (1977)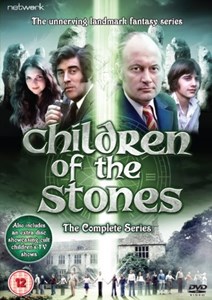 Children of the Stones is a seven-part, children's TV series. It was produced by HTV and broadcast on the various ITV channels in early 1977. The two main characters are an astrophysicist, Adam Brake, and his young son Matthew.

At the beginning of the first episode Matthew and his father are travelling by car to the village of Milbury. They are going to Milbury to study the ancient stone circle that surrounds it. They have almost reached their destination when something strange happens: a large stone appears in the middle of the road. Adam slams on the brakes to avoid crashing into the stone, but as he does so—blink and you'll miss it—the stone is replaced by Mrs Crabtree, who is the housekeeper from the cottage where they will be staying, and has been sent to meet them by Rafael Kendrick who is the main-man in the village.

Everyone is the village appears to be very friendly, but it doesn't take long before the Brakes realise that there is something unusual about Milbury and its inhabitants. For one thing, the village seems to be divided in two groups. The majority of the population is made up of the 'Happy Ones', who seem to be very intelligent, very happy and extremely strange. They smile all of the time and greet each other with the phrase: "Happy day!"

The only people in the village that are not Happy Ones are newcomers to the village—like the Brakes—and there are not many of them. At school, the non-happy children segregate themselves from their 'happy' classmates and know instinctively that something is wrong. "We've got to stick together," Sandra Smythe tells Matthew. "Just checking that you're human," says another another classmate, who has just picked a fight with him.

The ranks of the non-happy ones are fast diminishing though, as more and more people suddenly get with the programme and get happy.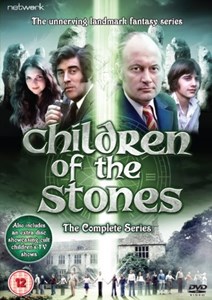 Children of the Stones is a very atmospheric series and I am sure that the haunting theme music and backing music contribute are partly responsible for this. The series also contains some quite difficult concepts for a children's TV series: time circles and psychic bubbles. Even without fully understanding such things though, the programme is extremely entertaining. What can I say? It's just such a well written, well cast, and . . . well it's just a damn good programme and although it was produced for younger viewers I am sure many adults will enjoy it too.

The series comes on a single disc and there are some special features included:


Interview with Gareth Thomas (who is probably best remembered for playing Blake in Blake's 7)
Interview with Peter Graham Scott
CAST
Hendrick ... Iain Cuthbertson
Adam ... Gareth Thomas
Dai ... Freddie Jones
Link ... John Woodnutt
Margaret ... Veronica Strong
Mrs Crabtree ... Ruth Dunning
Matthew ... Peter Demin
Sandra ... Katharine Levy
Kevin ... Darren Hatch
Jimmo ... Gary Lock
Dr Lyle ... Richard Matthews
Miss Clegg ... June Barrie
Browning ... Hubert Tucker
DVD Information:
Soundtrack: mono.
Picture: 4:3
Subtitles: none.
Running time: 3 hours 7 minutes
Certificate (UK): PG