Christine (1983)
Directed by John Carpenter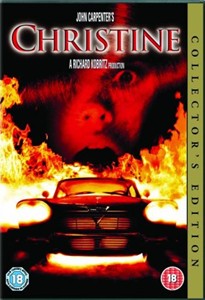 Christine is John Carpenter big-screen representation of Stephen King's book. I like this movie, I have always liked it, and when I realized that it was available on DVD I bought it straight away. I had the choice between the bog-standard DVD and the collector's edition. I chose the collector's edition.

To be honest, apart from the words 'Collector's Edition' on the box there isn't really that much difference between it and the standard DVD, but there is a commentary by John Carpenter and Keith Gordon, 20 deleted scenes and 3 featurettes:


Christine: Ignition

— The cast and crew talk about the movie (runtime: 11 minutes).
Christine: Finish Line

— Explains how the music was chosen for the soundtrack. Also a little more about the making of the movie and some interviews with cast and crew (runtime 7 minutes).

The movie is very similar to the book: a boy buys a car that soon becomes an obsession and then a whole lot more. There are a few differences between book and movie though. In the book, for instance, Arnie Cunningham buys Christine from its original owner, but in the movie the car's owner is dead and Arnie buys it from the dead man's brother. But none of the differences are worth mentioning here and they really don't matter because it's a great movie regardless of any deviations from the original story.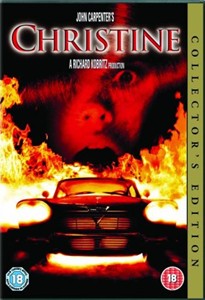 All of the cast are excellent and really make thier roles their own. The car steals the show, of course, but my favourite character would have to Arnie (Keith Gordon). Arnie is a real nerdy-looking kid at the beginning of the film, with arms flailing everywhere and an added gift for clumsy. He is brow-beaten by his parents at home, and beaten by the bullies at school. Then he buys Christine and as he rebuilds the car he seems to be rebuilding himself too. Gone are the glasses. Gone the flailing arms and ungainly walk. He dresses more smartly and is a new improved and more confident Arnie. But while things are improving for Arnie and his car, his family is falling apart and his relationship with his best friend, Dennis Guilder, appears to have taken a back seat.

The special effects in Christine are very good, especially so for a movie that was made back in the eighties. The Soundtrack is also excellent. Everyone should see this movie at least once. I have seen it a lot more than that and must be into double figures already.

CAST
Keith Gordon ... Arnie Cunningham
John Stockwell ... Dennis Guilder
Alexandra Paul ... Leigh Cabot
Robert Prosky ... Will Darnell

Harry Dean Stanton ... Rudolph Junkins
Christine Belford ... Regina Cunningham
Roberts Blossom ... George LeBay
William Ostrander ... Buddy Repperton

David Spielberg ... Mr. Casey
Malcolm Danare ... Moochie Welch
Steven Tash ... Richard Trelawney
Stuart Charno ... Don Vandenberg

Kelly Preston ... Roseanne
Marc Poppel ... Chuck
Robert Darnell ... Michael Cunningham
Richard Collier ... Pepper Boyd

Bruce French ... Mr. Smith
Douglas Warhit ... Bemis
Keri Montgomery ... Ellie Guilder
Jan Burrell ... Librarian
Charles Steak ... Shoppie
DVD Information:
Run time (feature): 1 hour 45 mins

Aspect Ratio:2.35:1 Anamorphic widescreen

Subtitles: English (hard of hearing), Arabic, Danish, Dutch, Finnish, French, German, Greek, Hindi, Italian, Norwegian, Swedish, Turkish