Attack of the Killer Shrews (1959)
(aka The Killer Shrews)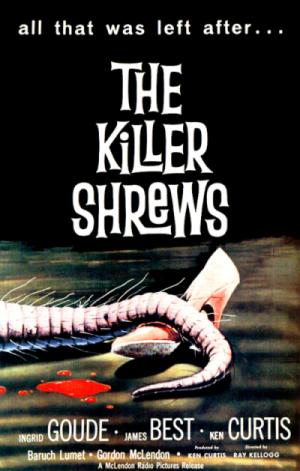 Directed by Ray Kellogg
The cult classic film Attack of the Killer Shrews was released in 1959. It is a science fiction film really, but it could also just as easily be classed as horror. The story begins at sea on a small boat. The captain of the vessel, Thorne Sherman, is on his way to deliver supplies to a group of scientists on a small, remote island. The only other person on board is his first-mate, Griswold.

When they arrive at the island Thorne and Griswold find that the leader of the group, Marlowe Cragis, has come out to meet them and he tells Thorne that he has a passenger for them, in the curvy, blond-haired form of his daughter Ann. Thorne takes one look at Ann and you can see straight away that he more than a little impressed. He takes Anne's hand and tells her that he will be more than happy to have her aboard, as he is getting a little tired of looking at Griswold, but they won't be leaving today because a hurricane is on the way. Anne's fiance, Jerry, has accompanied Ann and her father and Jerry is carrying a gun. Thorne does not fail to notice this fact and it would be hard for the captain not to notice, either, that all concerned seem a trifle anxious to get Ann away from the island.

Griswold goes back to the boat, but Thorne accompanies the group back to their stockade, where he finds out the nature of the research being conducted there. Worried that one day the world will become overpopulated and that there will not be enough food for everyone, Griswold has decided on a rather unique form of action. He is trying to make it possible to shrink people to half their size. A smaller person would need less food.

Griswold has not been using guinea pigs for his experiments though, he has been using shrews instead, and somewhere along the line he has made a slight mistake and now the island contains hundreds of giant killer shrews; which rather explains why Jerry felt the need to pack some iron earlier on.

It has got to be said Jerry really isn't a very nice man. The lovely Ann is much too good for him and, bearing in mind the fact that she now seems to have eyes for Thorne, conflict between the two men is inevitable.

Attack of the Killer Shrews is an unusual film that is definitely worth a watch, but I don't think it is a film that I could watch over and over again. The giant shrews are actually just dogs that have been dressed up. Close up they do look pretty scary . . . well . . . pretty ugly anyway; from a distance though, when they are jumping about, you can tell by their distinctive dog-like movements exactly what they are. The Killer Shrews was made on a low budget and it shows, but a lot of people love this film.


CAST
James Best ... Thorne Sherman
Ingrid Goude ... Ann Craigis
Ken Curtis ... Jerry Farrell
Gordon McLendon ... Dr. Radford Baines
Baruch Lumet ... Dr. Marlowe Craigis
Judge Henry Dupree ... 'Rook' Griswold
Alfredo DeSoto ... Mario
Watch Online Movie
This text will be replaced
| | |
| --- | --- |
| (right click and select "save as") | |