The Changeling (1980)
(aka L'Enfant Du Diable)
Directed by Peter Medak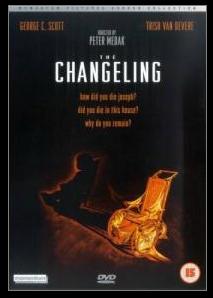 After his wife and daughter are killed in a road accident composer John Russell (George C. Scott) moves out of the family home and leases an old mansion. It's a big house for the old guy to be rattling around in on his own, but it turns out that he isn't as alone as he thinks. The house is haunted.

The first indication the viewer gets that the house is haunted is when one of the keys on Russell's piano is pressed down by invisible fingers. The first indication that Russell receives is when he is woken up one morning by the sound of banging reverberating throughout the house. Then a little later, in true haunted house fashion, a door opens itself. These things are only the beginning though, and when the composer hears the sound of dripping tap, and goes to investigate, he finds that the bath has filled with water. Russell turns off the tap and the manifestation of a young boy appears in the bath and floats to the surface. It has to be said that Russell handles this unexpected occurrence a lot better than most people would. He is one brave, old guy.

At a seance, conducted in the house, it is revealed that the young boy's name is Joseph and he died in the house 70 years ago and wants Russell's help.

Russell later has a vision that reveals the way Joseph died. His death, like his short life, was tragic. With the help of his friend Claire Norman Russell tries to uncover the truth about Joseph's death and upsets some wealthy and influential people in the process.

The Changeling is an incredibly good haunted house story and it terrified me the first time I saw it. That was many years ago, I have seen it several times since, and even now it never fails to raise a few goose bumps whenever I watch it. Special effects in the movie are minimal when compared to today's standards, but that does not matter because the general creepiness of the film is more than enough to keep the viewer's attention, and one of the scariest things in the film, strange to say, is an old wheelchair that moves around on its own. I think one of the reasons that the wheelchair idea works so well is because it isn't overused. The chair moves slightly a couple of times in the film, and then, when Joseph has a tantrum, it is thrown down the stairs. The scene in which this happens is probably one the most terrifying ones in the entire movie, but is not, by any means, the only scene that sends a cold shiver down the spine.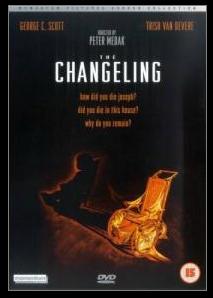 DVD EXTRAS

Trailer

Animated Photo Gallery

Exclusive Audio Commentary By Director Peter Medak
CAST
George C. Scott ... John Russell
Trish Van Devere ... Claire Norman

Melvyn Douglas ... Sen. Joseph Carmichael

Jean Marsh ... Joanna Russell
John Colicos ... De Witt
Barry Morse ... Parapsychologist
Madeleine Sherwood ... Mrs. Norman
Helen Burns ... Leah Harmon
Frances Hyland ... Elizabeth Grey
Ruth Springford ... Minnie Huxley
Eric Christmas ... Albert Harmon
Roberta Maxwell ... Eva Lingstrom
Bernard Behrens ... Prof. Robert Lingstrom
James B. Douglas ... Eugene Carmichael

J. Kenneth Campbell ... Security guard

C.M. Campel ... Mr. Tuttle
Voldi Way ... Joseph Carmichael
Michelle Martin ... Kathy Russell
Janne Mortil . .. Linda Grey
Terence Kelly ... Sgt. Durban
Robert Monroe ... Archives clerk
Hagan Beggs ... Coroner

Anna Hagan ... Secretary
Antonia Rey . .. Estancia
Sammy Smith ... Stan (the doorman)
Paul Rothery ... Terry Grey
Bruce MacLeod ... Security guard
Fred Latremouille ... Airport guard
David Peevers ... Microfilm clerk
Sera Johnstone ... Sarah Lingstrom
Adam Earle ... Adam Lingstrom
Carl Boychuk ... Music student
Bryan King ... Music student
Susan Round ... Music student
Nicki Steida ... Music student
Randolph Blankinship ... Pilot
Travis Major ... Pilot


DVD Information:
| | |
| --- | --- |
| Format | Anamorphic, Dubbed, PAL, Widescreen |
| Language | English |
| Subtitles | Dutch, English, German, Italian, Portuguese, Spanish |
| Aspect Ratio | 1.78:1 |
| Dubbed Language Options | German, Italian, Spanish |
| Runtime | 102 minutes |
| Audio | Choice of Dolby Digital 2.0 Stereo or mono |