The Ghoul (1933)
Directed by Roger T. Hayes Hunter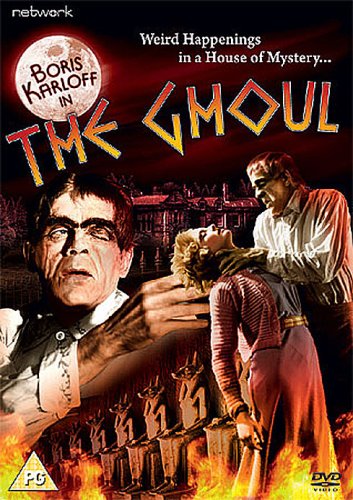 The Ghoul is a classic British horror movie starring Boris Karloff, Ernest Thesiger, and Cedric Hardwicke. Karloff plays Professor, an Egyptologist who ives in a spooky, old house with only his Scottish butler for company. Morlant is a dying man and he shares the beliefs of the ancient Egyptians, so in an effort to cheat death, he has used most of his fortune to buy the Eternal Light—a stone stolen from an Egyptian temple.

In his final moments, Morland asks his butler to bandage the stone into the palm of his left hand. He has had an Egyptian tomb built in his garden and that is where he will be interred. The bushy eye-browed professor believes that he will rise from his tomb on the next full moon. When he does he intends to offer the Eternal Light to the god Anubis. If his offering is accepted Anubis will grant him the gift of eternal life.

When the full moon rises, the professor rises with it—from his grave—and, if he looked bad on his deathbed, he looks worse now. Not only are his eyebrows having a bad hair day, the rest of him has followed their example.

Morlant staggers from his tomb and—horror of horrors—realizes the Eternal Light has been stolen from his bandaged hand. Filled with rage he lurches into the night, killing anyone who gets in his way as he searches for the Eternal Light.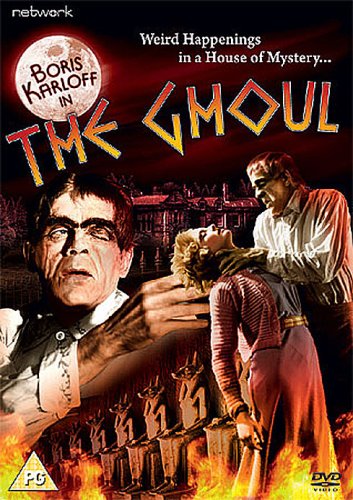 There are one or two twists to this tale and some people are not what they first appear to be, but The Ghoul is never going to be one of my all time favourite horror classics. For Karloff fans though, it's probably a must-see movie.

Runtime 77 mins
Certificate: PG (UK),

CAST
Boris Karloff ... Prof. Morlant
Cedric Hardwicke ... Broughton
Ernest Thesiger ... Laing
Dorothy Hyson ... Betty Harlon
Anthony Bushell ... Ralph Morlant
Kathleen Harrison ... Kaney
Harold Huth ... Aga Ben Dragore
D.A. Clarke-Smith ... Mahmoud
Ralph Richardson ... Nigel Hartley