Hi, I'm Steve.

Ugly looking dude aren't I? Anyway, welcome to my site.

I have been a horror fan all of my life and when I was a child I loved reading ghost stories and watched more than my fair share of Frankenstein movies from behind the sofa.

Nothing has changed much over the years, except that I now watch the movies from the right side of the sofa and do a little writing as well. In the past I have written all kinds of things, including poetry and magazine articles, but I prefer writing horror stories, so that is what I try to concentrate on.

In 2006 I became an affiliate member of the Horror Writers Association , using my story "Stalker" as qualifying material. "Stalker" was published in the UK Women's magazine Best (2005). Obviously for that market I had to tone things down a bit, but the story still had a strong element of fear.

I built this site the same year and, rather than just have a page or two that listed my published stories, I decided to try and make the site into a useful resource for fans of the horror genre. With this in mind I began adding book and movie reviews and it is my hope that the reviews might be helpful to people who are trying to decide if a particular book or movie will be of interest to them.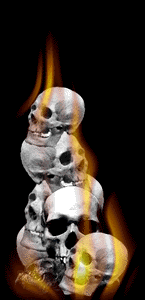 Many older movies are now in the public domain and can be passed around freely. I love the old, classic horror movies and I know that I am not alone in this, so I have added a section where visitors can watch some of these classic chillers that hail from the days when the special effects were not that special, but with people like Vincent Price in front of the camera they didn't need to be.
The 'My Stuff' section of the site is a list of my published work and the rest of the links in the navigation panel are self-explanatory.
I hope you find something useful on the site.
Steve Calvert