Book Review: Alarums by Richard Laymon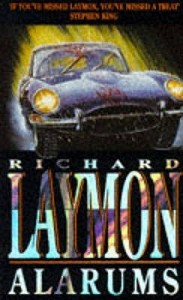 Melanie plays the violin and is in the middle of a concert performance when she collapses to the floor and appears to be taking a fit. Melanie's boyfriend Bodie is in the audience and rushes over to her. When Melanie recovers Bodie escorts her from the building and asks her what happened. Melanie explains that she has had a premonition and is now worried that something has happened to either her father or her sister. Melanie tries to ring her father, but he doesn't answer his phone so she and Bodie set off on a journey across state to visit him.
As we get to know Melanie better we discover that she has certain issues with her family. She feels intimidated by her sister's beauty, doesn't like her step-mother, and finds it hard to forgive her father for marrying again. We also discover her premonition seems to have been right.
Mine was the hard back version of Alarums and it ran to 309 pages. I read the first 25 pages and then put it aside until the next day. The next day I finished it. I had planned to take a little longer over it, but I got hooked into the story and couldn't wait to find out how it ended.
The reason that I found it difficult to put Alarums down once I picked it up is that there was always something happening that I needed to know the answer to. I kept coming up with lots of ideas about what was going on and I needed to find out if I was right. When I got to the end I'd actually got a lot of it wrong, but that was okay because it was such a good story and had some great characters—even if some of them were not as they first appeared to be.