Book Review: Candlenight by Phil Rickman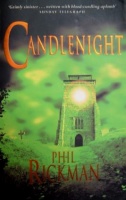 Candlenight is set in the fictional Welsh village of Y Groes. Surrounded by beautiful countryside and with picture-postcard views the village looks like a little slice of paradise, but there is a darker side to Y Groes and it has a closed community that offers little welcome to outsiders. Especially the English.
There are several viewpoint characters in Candlenight and two of the more prominent ones in the first half of the book are Giles and Claire Freeman. Giles is a Fleet Street reporter and his wife Claire is a freelance photographer. They are both successful in their chosen fields, but Giles is sick and tired of his job and of London as well. Then Claire's grandfather dies and leaves her his house in Y Groes. She had never even met him, so this parting gift is quite a surprise and when the couple visit the old place, Giles falls in love with Y Groes and decides to throw in his job and move there.
Before leaving London Giles attends a colleague's retirement party where the man of the hour, Old Winston, tries to warn him against the proposed move to Wales, telling him "We're not really meant to be there, you know, the English." and then proceeds to give him an account of how unwelcome the people in Wales made him feel on his one and only visit to their country. Giles is not amused by the old man's words and when a few more of his colleagues jump on the bandwagon and add their own horror stories about Wales Giles storms out of the bar in a huff. Winstone is genuinely worried about him though, and asks a mutual friend Berry Morelli to try and talk him out of the move.
Later that night Winstone has a stroke and dies and Morelli, feeling a duty to carry out the old man's wishes, accompanies Giles on a visit to Y Groes. Giles hopes that once Morelli sees the house in Y Groes for himself he will be won over, but Morelli is a sensitive and when he feels a dark presence lurking inside the house, far from being won over, he is scared shitless.
Morelli is a regular viewpoint character throughout the book, as is Y Groes schoolteacher Bethan McQueen. She is a young, beautiful widow who is still grieving for the husband that she lost much too soon. Bethan is the headmistress of the school in Y Groes and she is a modern lady who does not hold with the old ways that are so important to the villagers. She does not believe in the bird of death or corpse lights, or any of their other superstitions, which is probably one of the main reasons for her conflict with the school's other member of staff Mrs Buddug—a big, brawny monster of a woman who persists in filling the children's heads with all sorts of ideas that Bethan considers to be nonsense. Sadly, on this point, Bethan herself has a lot to learn.
Bethan and Morrelli are both interesting characters, as are the Freemans, and to be honest there are far too many characters in the book to give adequate mention of them all in this review. There is, for instance Guto Evans, the hard man of local politics and Morelli's would-be rival for Bethan's affections, and I have to give top marks to any author who can give an undertaker a name like Dai Death.
I enjoyed reading Candlenight, although I will admit that I had to read a few chapters before I got a feel for the characters and became hooked into the story. The nature of the evil that Morelli and Bethan uncover in Y Groes is as unusual as the local undertaker's name and the book offers a rather interesting blend of local politics, Welsh mythology, Xenophobia, mystery and romance. So there is always a lot happening. Candlenight is 429 pages long and although it starts off a little slow once the pace picks up it is a book that is very hard to put down.