Book Review: Everville By Clive Barker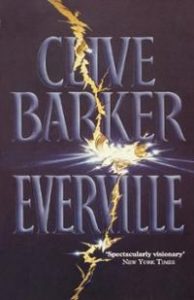 Everville is Clive Barker's sequel to The Great and Secret Show. The two books are also known as the first and second books of the art.
It would be possible for a reader to read Everville without first having read its predecessor, but I really do think that it makes a better read when you realize what has gone before and The Great and Secret Show paves the way beautifully for those who pay a literary visit to Everville.
Everville sees the return of some old friends: Tesla Bombeck and Nathan Grillo. Both characters featured prominently in the first book, but their adventures have left them a little the worse for wear and time has taken its toll on them. Barker's demon-busting, ass-kicking detective Harry D'Amour, who also made a brief appearance in the first novel, is back to kick a little more demon ass in Everville and figures a little more prominently in the proceedings this time.
Along with the old favourites there are also plenty of new characters, like the mysterious Owen Buddenbaum whom, it is obvious from his very first appearance, is no ordinary homo sapien and seems to have a hidden agenda. Then there is Coker Ammiano: a strange creature indeed, who rips the very wings off his back to offer his support to a lady in need.
Everville is partly set in the real world and partly in a world of strange lands populated by even stranger people and separated by the dream sea of  Quiddity.
As in the first novel, there is a lot going on. One woman searches for a lost love, while he in turn searches for a way back to her. Grillo searches for answers and, in her own way, Tesla has a similar quest, while D'Amour has demons of his own to pursue. A lot of lives are interwoven and come together in all sorts of different and interesting ways in Everville.
I read the paper back copy of the book and it ran to around 640 pages. It was never boring and I enjoyed it a lot. I would have to also say that it would not surprise me if Clive Barker writes a third book of the art at some point, because there is still plenty of mileage left in the characters and the story. I will wait and see and if and when I see a third book of the art gracing the shelves my local bookshop I'll buy it.