Public Domain Movie: Creature from the Haunted Sea (1961)
Creature from the Haunted Sea: Review
Creature from the Haunted Sea is perhaps best described as a comedy farce about a sea monster. The film was directed by Roger Corman and stars Antony Carbone, Betsy Jones-Moreland and Robert Towne, all three of which also starred in Corman's The Last Woman on Earth.
Although The Last woman on Earth, only needed three Characters for most of the movie, Creature from the Haunted Sea has quite a few more and what an interesting and entertaining bunch they are. For instance, there's Happy Jack Monahan, so called because he developed a muscle spasm in his cheek from watching too many Humphrey Bogart movies. Then there is the rather unusual and entertaining Pete Peterson Jnr. who seems to spend most of his time doing animal imitations. And why not? Everyone should have a hobby.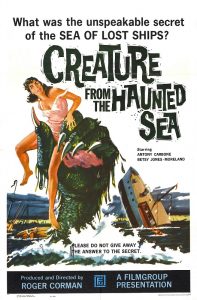 Happy Jack and Pete Peterson are just two of the supporting cast, but I think from their description you should be able to tell that Creature from the Haunted Sea is a very tongue-in-cheek film that cannot be taken too seriously.
The basic storyline follows the adventures of Sparks Moran (Agent XK150). Sparks is a spy. He's also the film's narrator, telling the tale in quite a believably gum-shoe type voice.
Sparks manages to get himself a job onboard a yacht that is smuggling a group of exiled Cubans out of Cuba. The Cubans have a box of money with them and the ships skipper Renzo Capetto aka Capo Rosetto aka Ratto Pazetti, aka Zeppo Staccato, aka Shirley Lamour (does this guy have an identity crisis or what?) devises a plan to liberate the money from the Cubans and provide it with a loving home.
Renzo's plan is pretty simple. He starts killing the Cubans and making it look like the work of a sea monster. Renzo also hopes the threat of a sea monster will force the Cubans to agree to a change of course to a destination that better suits his needs.
The only problem in all of this is, in the words of Sparks Moran: "What none of us knew was that the monster invented by Renzo had already been invented by somebody else. By a couple of other monsters, I guess." Needless to say, nothing goes according to plan and there are all sorts of amusing results.
The monster, when you get to see it, looks like a renegade from The Muppet Show with severe behavioral problems and wearing a pair of flippers and Freddy Kruger gloves. If you want a hard-core horror film, this ain't it. If you want to spend a little over an hour with a smile on your face, give it a try.
Additional Information
Director: Roger Corman
Cast
Antony Carbone  … Renzo Capetto
Betsy Jones-Moreland … Mary-Belle Monahan
Robert Towne … Sparks Moran / Agent XK150 / Narrator
Beach Dickerson …  Pete Peterson Jr.
Robert Bean … Happy Jack Monahan
Esther Sandoval … Rosina Perez
Sonia Noemí González  … Mango Perez
Edmundo Rivera Álvarez … Gen. Tostada
Armando … Cuban
Terry Nevin  … Cuban
Elisio Lopez  … Cuban
Tanner Hunt  … Cuban
Blanquita Romero  … Carmelita Rodriguez