Audiobook Review: The Brides of Dracula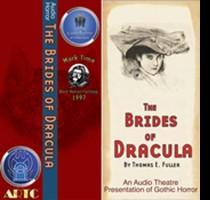 This dramatization of Dracula was produced by the Atlanta Radio Theatre Company and was originally performed live on stage at Dragon*Con 1997. The story was adapted by Thomas E Fuller and there are many differences between his version and Stoker's original story. Probably the most notable of which is the elevated prominence of Dracula's brides. In Stoker's story the brides of Dracula make a brief appearance in chapters three and four and are then forgotten about until the final chapter of the book. In Fuller's version the Count and his ladies behave more like a family unit and the fanged beauties accompany him on his trip to England.
As with the original story, it all starts with Jonathan Harker and the listener first encounters him while he is en route to the Count's castle. He has been travelling for nine days and has received many warnings not to continue, "It is not good, young master. It is not good at all," says one man. "The way is ill, the time of year bad," adds another and a worried peasant girl warns him, "Do not go, English sir, do not go. It is bad it is very bad beyond the border, do not go." Harker does go of course, and the Count soon develops and unhealthy interest in the young man's fiancée, In short he wants Mina Murray for himself and, far from being jealous, his three brides are there to help him every step of the way.
"The Brides of Dracula" has been described as 'An erotic and unsettling retelling of the Bram Stoker classic' but I must point out that although the brides ooze with sexuality there are no sex scenes in the story, so potential listeners with conservative tastes need not worry that they will find anything too offensive or shocking. Be warned though, this is probably not the best recording for faint hearted listeners. The scene where the count rips open his chest and forces Mina to drink his blood is particularly powerful and it paints some unpleasant pictures in the mind.
I think that this is an interesting interpretation of the story. I enjoyed it a lot, the cast are excellent and the background music and sound effects do a good job of bringing the tale to life. "The Brides of Dracula" has a runtime of one hour and three minutes and if you are a fan of the original story the chances are that you will love this one as well.