Book Review: Cinema Macabre by Mark Morris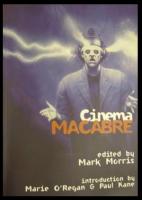 Cinema Macabre is 233 pages long and is the brainchild of best-selling author Mark Morris. Basically it is a collection of essays, written by writers and editors etc from within the horror, sci-fi and fantasy genres, and about their favourite horror movies.
Some of the contributors to the book include: Ramsey Campbell, Simon Clark, Neil Gaiman, Stephen Laws, Christopher Fowler and, of course, Mark Morris—who also edited the book. That names just six out of 50 contributors.
I must admit that I found Cinema Macabre a little boring in places; so there were parts of the book that I just skimmed through rather than read properly. The book contains a wealth of interesting information though, and I learnt a quite a bit from it.
As I read Cinema Macabre I was surprised at how many of the movies mentioned were unfamiliar to me and I now have quite a list of movies that I want to see at some point. I also discovered a lot of new things about the movies that I was already familiar with. This is a useful book and I am sure that many fans of the horror genre could benefit from having a copy of it on their bookshelves. Some people may, just like me, find the book a little boring if they try to read it from cover to cover, but if they refer to it as a reference book it should prove very usefiul indeed.
The movies discussed are:
The Unknown (1927)
The Old Dark House (1932)
King Kong (1933)
The Bride of Frankenstein (1935)
I walked With A Zombie (1943)
Orphee (1949)
Les Diaboliques (1955)
Carousel (1956)
Invasion of the Body Snatchers (1956)
Psycho (1960)
The Haunting (1963)
Repulsion (1965)
The Plague of the Zombies (1966)
The Reptile (1966)
Pretty Poison (1968)
Witchfinder General (1968)
Daughters of Darkness (1971)
Let's Scare Jessica to Death (1971)
The Omega Man (1971)
Don't Look Now (1973)
The Wicker Man (1973)
The Omen (1976)
The Tenant (1976)
Eraserhead (1977)
The Last Wave (1977)
Suspiria (1977)
Dawn of the Dead (1978)
Halloween (1978)
Alien (1979)
The Changeling (1980)
The Fog (1980)
The Shining (1980)
The Thing (1982)
Something Wicked This Way Comes (1983)
Videodrome (1983)
Razorback (1984)
Demons (1985)
The Return of the Living Dead (1985)
Hellraiser (1987)
Jacob's Ladder (1990)
Braindead (1992)
Twin Peaks: Fire Walk With Me (1992)
Lost Highway (1997)
Ringu (1998)
The Blair Witch Project (1999)
The Sixth Sense (1999)