Book Review: The Sphinx by Graham Masterton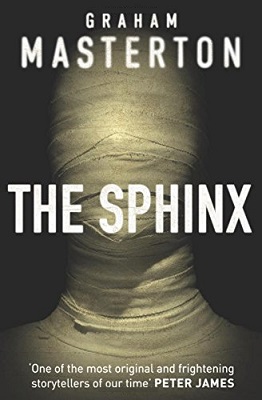 The Sphinx is a little over 200 pages long, I found it a riveting read, and I am sure many other people will do too. The story starts at a Washington cocktail party being held for the new Secretary of State, Henry Ness, who has just become engaged. It's one of those parties where everyone in attendance is either very beautiful, reasonably powerful, or sometimes both. The book's central character, Gene Keiller, works for the state department and he is one of the guests who falls into both categories. When it comes to beauty though, no one in attendance can compete with the tall and elegant Lorie Semple. With her mane of tawny hair and green eyes, when Lorie walks into the room, without an escort, all eyes are on her and Gene is quick to step forward and introduce himself before anyone else beats him too it.
Lori seems aloof and uninterested in his advances, but Gene polishes up his silver tongue and soldiers on anyway and does seem to make a little progress. In fact, Lorie admits she likes Gene—even if she doesn't act like it. Before Lori has been at the party any length of time though, her chauffeur arrives to escort her home. He is a tall and silent man called Mathieu, who seems to have managed the art of intercepting any emotion he might feel before it reaches his face. Or then again, perhaps he just has no emotions. Loathe to part company so soon, Gene pushes Lori for permission to drive her home instead of Mathieu. Lori softens to Gene's charms and allows him to do so, while Mathieu leads the way in the Semple Limousine.
During their journey together Gene makes a little more progress with Lori, but she remains as aloof as ever and just as confusing. She says that he is sweet, yet she will not permit him to enter the Semple estate and insists he lets her out at the gates so that Mathieu can drive her the rest of the way. Although she admits she likes Gene, Lorie but Lunch with him, she says, would be impossible. Why? Because she likes him and would not like him to get hurt. This is all very confusing for the young politician and, although he manages to get a kiss out of his rather buxom companion, he also gets his tongue bitten in the process. Talk about mixed signals. Gene decides to ignore the verbal rebuffs and follows his heart. Unfortunatley, his heart is leading him into some very strange territories indeed.
I liked all of the characters in The Sphinx and, as the story progresses, the reader, like Gene, discovers that there is a lot more to some of the characters than meets the eye—in more ways than one in some cases (that's a little joke by the way, which is only funny after you've read the book). The story never flags or gets boring and although there is a romantic aspect to the story—will the young couple manage to make a go of things? A whole lot of mystery—what the b' Jesus is going on here?—overall what the reader gets in The Sphinx is a well crafted, very unusual, and equally entertaining, horror story.