Chopper Chicks in Zombietown (1991) a.k.a Cycle Sluts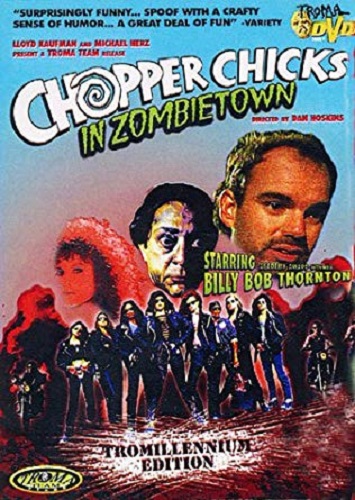 As the name suggests, Chopper Chicks in Zombietown is about an all-girl biker gang called the Cycle Sluts.
When the Cycle Sluts arrive at the small, desert town of Zariah they are looking for a little R&R and when they talk about wanting some 'meat' they are not talking about a tray of mince and half a pound of sausage. Well, not the mince anyway. Unfortunately for the meat-seeking girls instead of finding some sausage, they find a whole load of trouble. A zombie menace is heading for town and things are not looking good in Zariah because the zombies are hungry for meat too.
The zombies have been busy working at the local mine. They all used to be living, breathing members of the local community until the local undertaker, Ralph Willum, stepped in and recruited them for his zombie workforce.
When he sees all that fresh meat arriving by chopper Willum sees a chance to swell the ranks of his undead workforce and sends out his pint-sized henchman, Bob Littleton, to kill the sluts and bring their bodies to him for reanimation.
The leader of the Cycle Sluts is a tough-talking lady called Rox. She's not the best-loved of leaders, and she knows it, but her way is the only way she knows and the girls are just going to have to like it or lump it. Her dyke-heart is in the right place though. Rox genuinely cares about her girls, even is she doesn't always know how to show it.
The Slut who tends to lock her red-headed horns with Rox the most is Dede. She is not keen on stopping in Zariah and would have prefered to ride straight through the town. Dede has her reasons for this though, not least of which is the fact that she used to live in the town, and is a former Homecoming Queen. The locals remind Dede of this every chance that they get—"Hey, weren't you homecoming queen?" Dede's fellow Sluts knew nothing about her past life and Rox takes an especially dim view of the whole thing, especially when Dede's husband shows up looking for her. "Choose babe," Rox tells Dede, dangling the keys to Dede's bike between her fingertips.
Rox kicks Dede's bike over and rides out of town without her. The rest of the gang are less than impressed with this sudden turn of events. They are also wondering what has happened to Lucille, who went off in search of some 'meat' and never returned. With a total disregard for Rox's feeling on the matter, some of the girls decide to head back into town and look for their friends, even if it does mean fighting a few zombies.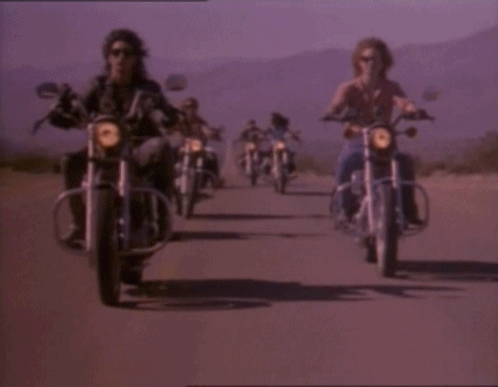 It is a good job the Sluts are back in town because the local townsfolk are somewhat reluctant to kill the zombies because they are (were) their friends and family. The Cycle Sluts have no such reservations. Dede's weapon of choice is a baseball bat and she's a Slut who knows how to swing. Zombies are losing their heads over her left, right and centre, while fellow Slut, Rusty, gets busy with a blowtorch and blows the wax out of some zombie's ears. Meanwhile, T.C meanwhile is packing a staple gun and it's hard not to admire her for her optimism.
When Rusty loses confidence in her weapon of choice, she swaps the blowtorch for a chainsaw. But the zombies keep on coming and—just to make it interesting—a bus full of blind orphans turns up for the Sluts to protect as well.
Chopper Chicks in Zombietown is a very entertaining movie that doesn't require you to think too much. There is plenty of humour, plenty of girls wearing leather and an abundance of zombies. I can't remember ever watching a comedy horror that I enjoyed more. I even liked the music, although Rox's rendition of "Do What Your Big Mamma Tells You" left me feeling a little mystified (what's THAT all about?). Watching Rox sliding up and down the jukebox while she was singing, the locals looked more than a little mystified as well, but it's all good fun.
Chopper Chicks in Zombietown:  Cast and Crew
Written and Dircted by Dan Hoskins
Cast
Jamie Rose … Dede
Catherine Carlen … Rox
Lycia Naff … T.C.
Vicki Frederick … Jewel
Kristina Loggia … Jojo
Gretchen Palmer … Rusty
Nina Sonja Peterson … Tanya
Whitney Reis … Lucile
Ed Gale … Bob Littleton
Don Calfa … Ralph Willum
Martha Quinn … Mae Clutter
Earl Boen … Butcher
Billy Bob Thornton … Tommy
Dave Adams … Store manager
Lewis Arquette … Sheriff Bugiere
Hal Sparks … Lance
Rob King … Vince
Mel Castelo … Jeanne
Tyrone Bowman … Tyrone
Kea Katz … Mary Anne
Martin Brumer … Marc
Catherine Craft … Naomi
David Knell … Booge
Craig Stark … Mechanic
Shon Greenblatt … Town boy
John Casino … Bar tough
Tanner Brewer … Bar mumbler
Cameron Milzer … Nurse / Townswoman
Gwil Richards … Henry Clutter
Kent Snyder Jr. … Clutter son
Fredric LeBow … Sideburns
David Dohrmann … Kenny
Additional Information
Runtime: 86 Minutes
Sound: Stereo
Language: English
Additional Information