Book Review: Song of Susannah (Dark Tower 6) By Stephen King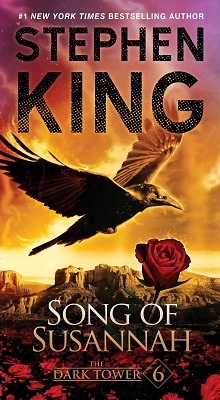 In Wolves of the Calla, Roland and his ka-tet won their battle but also lost a vital member of their team. Susannah, heavily pregnant with a demon baby, and possessed by an entity called Mia, managed to crawl up to the Cave of the Voices. Once inside, she passed through a magic door into another 'when' and 'where' (time and place). Song of Susannah picks up the story and finds Eddie Dean desperate to go in search of his wife. But before he can do this he will need the help of the Manni tribe, who are skilled in the use of magic doors.
Although Eddie wants to go through the door at once none of the Manni will venture anywhere near The Cave of the Voices in the dark; so Eddie has to wait until the morning. By the following morning though, the cave has fallen unusually silent, making Eddie fear that he is standing in front of a door that leads nowhere. "There is no magic left here," he tells Henchick, the leader of the Manni. "There's nothing behind that fucking door but stale air and fallen rock. You're a fool and I'm another." These are harsh words but Henchick does not to take offence, he does, however, give Eddie a little demonstration of Manni magic that soon has the young gunslinger wishing he had held his tongue.
Susannah is only one of the ka-tet's worries. They also need to travel to Calvin Tower's 'when'. They have unfinished business with him and if they hope to save The Dark Tower they need to complete that business. With two such important tasks ahead of them it is necessary for the ka-tet to be further divided, so it is agreed that Roland and Eddie will go after Susannah while Jake and Father Callahan will go in search of Calvin Tower. Oy will stay with the Manni. That was their plan, but ka—or something else—has other ideas and the first time the door opens—onto Susannah's where and when—it is Jake, Father Callahan, and Oy that are dragged through. Then when the door opens for the second time Roland and Eddie are sent tumbling into Tower's where and when.
Susannah, meanwhile, has troubles of her own. Mia has total control of her and she is little more than a prisoner in her own body. On the positive side, she has grown a new a new set of legs and is getting around a lot better, even if she isn't in the driver's seat.
Song of Susannah is a good read and, as with The Waste Lands, the book ends with a cliffhanger. Susannah—and Mia!—are in big trouble. Jake, Father Callahan and Oy are rushing to her (their) rescue, but fighting the odds as they fight the minions of The Crimson King. Roland and Eddie, on the other hand, have concluded their business with Tower and then gone to spend some time with a writer named Stephen King.
Stephen King has done a fantastic job of writing himself into the story and even manages to make his presence in the book seem believable. He does not pull any punches either. Roland and Eddie turn up at a time when (in real life) King had a bit of a drinking problem and (in the story) it does not help matters for the author when he finds himself standing face to face with the gunslinger he created. Anyone would need a beer after a shock like that! King has a few of them, which makes Eddie worry that the writer might drink himself to death before he finishes writing the Dark Tower series. Eddie's worries are pointless though. Ka has other plans for King and when the 'ka-ka' does finally hit the fan it is not cirrhosis that nearly ends the writer's tale; it's a speeding van.